Description
The RadioMaster ER5C is an ExpressLRS PWM Receiver that supports 8.4HV servos and accessories. 
Features
Compact size, easy to install. Perfect for Surface, marine, and air R/C applications.
Supports 4 proportional and 1 switch channel (ExpressLRS 2.x)
Supports 5 proportional channels (ExpressLRS 3.x)
Supports 8.4V HV servos and accessories
Robust, injection-molded receiver casing
Fast response speeds, incredible range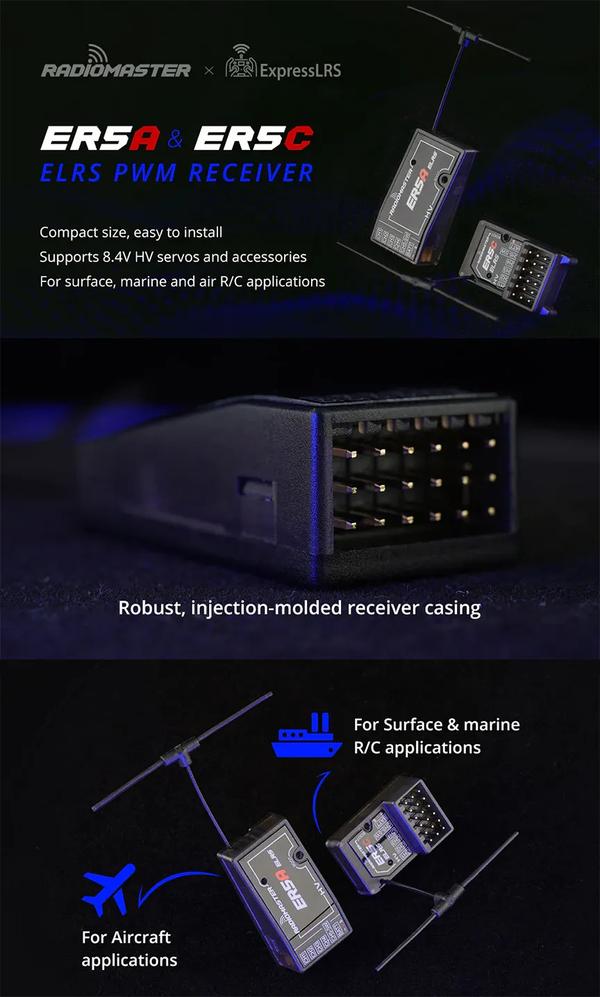 Specifications
Output channel: CH1-4 standard PWM; CH5 switch (ON/OFF) PWM
Antenna type: high sensitivity T-shape antenna
Wireless Protocol: ELRS 2.0 pre-installed
Item: ER5C 2.4GHz Receiver
Power supply: DC 4.5-8.4V
Size: 37*19*13mm
Weight: 6.6 grams
Parameters
| | |
| --- | --- |
| Dimensions (Length * Width * Height) | 37x19x13 mm |
| Radio frequency | 2.4 GHz |
| Weight | 6,6 g |
Package included
1x RadioMaster ER5C ELRS PWM Receiver
1x Spare Long Antenna
Reviews
There are no reviews for this product.