Description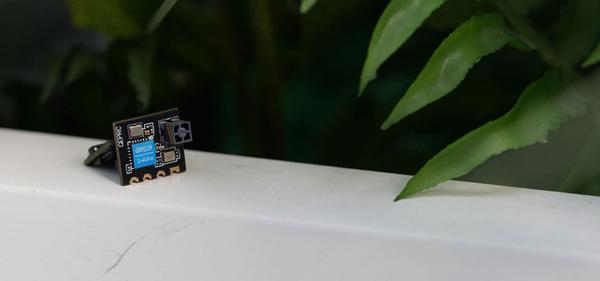 Summary
GEPRC ELRS NanoSE receiver is a new generation remote control system developed based on the ExpressLRS open source project. ExpressLRS sets new standartds for long-range connection, low latency and Maximum refresh rate of 500Hz.
GEPRC ELRS NanoSE receiver operates at a frequency of 2.4 GHz. Compared with Nano receiver, NanoSE receiver uses an Integrated SMD ceramic antenna, which further reduces its size while ensuring signal reception, making it more suitable for use on drones with limited space and light weight.
Note:ELRS products now shipping have been pre-flashed with 2.x firmware. 2.x is not compatible with version 1.x, so you need to upgrade the transmitter to 2.x for proper frequency matching.
Specifications
Size:12.1mm*10.4mm
Weight:0.4g
Chips:ESP8285,SX1281
Frequency band:2.4GHz ISM
Refresh rate:25Hz-500Hz
Input voltage:5V
Antenna:Integrated SMD Ceramic Antenna
Feature
Small size
0.4g weight
WIFI Upgrade firmware
ELRS open source project, remote control
Integrated SMD Ceramic Antenna
Maximum refresh rate of 500Hz
The operation is simple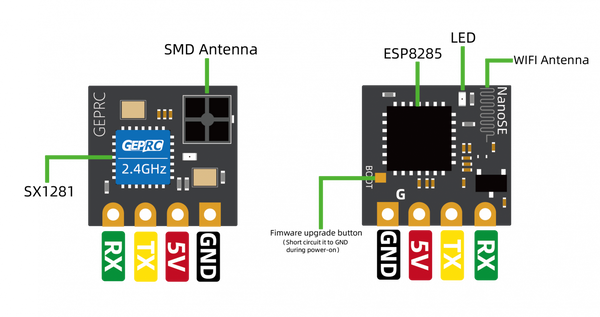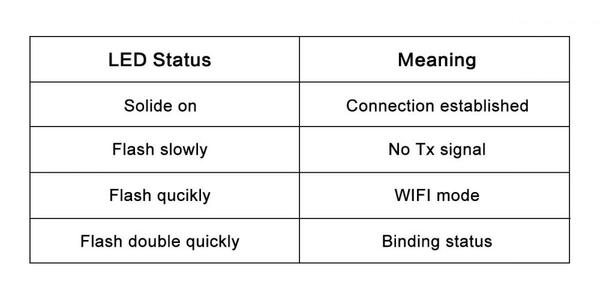 1. The receiver is powered on and off for three consecutive times (within an interval of 1 second);
2. Receiver's LED doing double flashing, indicating that the receiver has entered the binding mode;
3. Make the RF Tx module or radio transmitter enter binding status. Once the LED status changes to solid light, the binding is successful.
Parameters
| | |
| --- | --- |
| Dimensions (Length * Width * Height) | 12.1X10.4 mm |
| Radio frequency | 2.4 GHz |
| Weight | 0.4 g |
| Chips | ESP8285,SX1281 |
| Refresh rate | 25Hz-500Hz |
| Input voltage | 5V |
| Antenna | Integrated SMD Ceramic Antenna |
Package included
1 x NanoSE receiver
2 x Heat shrink tube
4 x Silicone cable(black, red, yellow, green)
1 x Pin (4pin)
1 x Instruction manual
1 x Sticker
Reviews
There are no reviews for this product.